GREASE TRAP cleaning IN Jacksonville
Jacksonville Grease Trap Cleaning
Grease Trap Cleaning Services in Jacksonville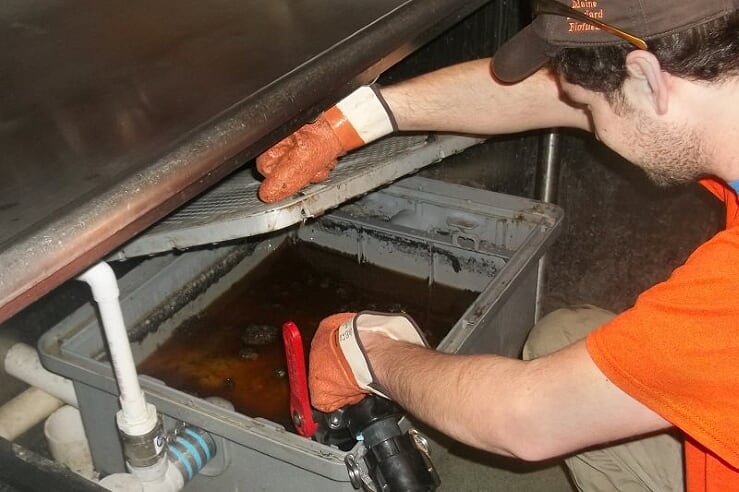 Jacksonville local authorities don't play games when it comes to keeping the sewer system free from hazardous waste. If any commercial kitchen fails to comply with the regular maintenance cleaning required by the city, it will suffer huge fines and even face closure. Out of fear, many restaurant owners do their best to keep their grease traps as clean as possible, but some still fall short. Aside from requiring that grease traps be cleaned and pumped regularly, the City Code also requires a licensed and certified company to perform this cleaning. There are many rules and regulations regarding proper grease disposal. We'll talk about the reason for these rules in this article.
Before we go into the details on the importance of grease trap cleaning, it's wise to talk a little about some factors that affect the frequency of grease trap pumping. The first factors to consider are the size of your food establishment and the amount of greasy food you produce. Then, consider the kind of oils you use for cooking and the water quality in the area. Finally, city officials also take into consideration the number of patrons you serve daily.
When you partner with Jacksonville Grease Trap Services, we guarantee that all these important considerations are incorporated before deciding on a cleaning schedule. We understand that you want to comply with the local guidelines and don't want to spend unnecessarily on cleaning. To strike a balance, we thoroughly inspect your establishment before making recommendations. If you ever face overflows or back-ups, you can count on our team to help you address the problem. We feel confident in saying there is no other company in Jacksonville that offers such thorough, high-quality grease trap services at an affordable price.
Why grease trap cleaning is so important
Grease Trap Cleaning Jacksonville – Ever since the Western Regional Pump Station, Force Main, and Trunk Sewer project started, the City of Jacksonville has enjoyed a much better system that can meet our city's growing needs. With increased capacity & flexibility, this new sewer system continues to flourish. With this new system working optimally, it is understandable why clogging, and overflows need to be prevented. Grease traps are the only mechanisms that prevent dangerous FOG from entering the sewer system. However, installing a grease trap is not enough. You need to partner with a professional company like Jacksonville Grease Trap Services. We own a fleet of pump trucks that regularly dispose of the grease before your trap reaches maximum capacity.
There are many benefits to following your maintenance schedule. First, you can have peace of mind knowing that all your waste will not harm the environment and will be disposed of in an eco-friendly manner. You can also be confident that your business is doing its part in preventing blockage or overflows in the sewer system. Following regular maintenance also means you are safe from any penalties or fines from the authorities. Lastly, you provide a safe environment for your employees and customers free from fungi and pathogens.
Our team at Jacksonville Grease Trap Services has been serving the city for more than a decade. It has been around through the evolution of different types of grease trap models. There is no doubt that our team knows how to clean whatever kind of grease trap you have, effectively and efficiently. Since we are all Jacksonville residents, we always follow safe practices of grease disposal, never taking shortcuts. From the moment we walk into your kitchen to the moment we drive away, everything we do supports the local City Code standards.
Since there are always new practices in grease pumping, our team keeps up-to-date on all of the changes and implements them right away. This way, you are guaranteed that your grease trap is functioning at its best. Our years of experience have taught us never to use local recycling processing units that only result in high taxes for your business. We have also learned that many methods used by other companies, such as bacterial treatments, are against local ordinances. Find us on Google and see what our satisfied customers have to say about us!
What sets us apart from our competitors?
Our company has both the expertise, experience and equipment to handle any job set before us. When we partner with a food establishment, we become part of their success and strive to nourish our relationship. Loyalty matters to us, and we always put the interests of our long-term clients first. This sense of loyalty also means that we will never do anything to put your business in danger or cause you to be fined.
The city officials in Jacksonville know our company well and trust all the restaurants we work with. Our excellent reputation inspires us to continue giving our very best to all of our clients, and never sacrifice quality. We are a team of professionals who sincerely care for you and your business.
Give us a call at 904-295-1661 and let us earn your business.
GET A GUARANTEED CALL BACK
FROM THE OWNER
Affordable & Reputable Grease Trap Services