GREASE interceptor cleaning IN Jacksonville
Jacksonville Grease Interceptor Cleaning
Grease Interceptor Cleaning Services in Jacksonville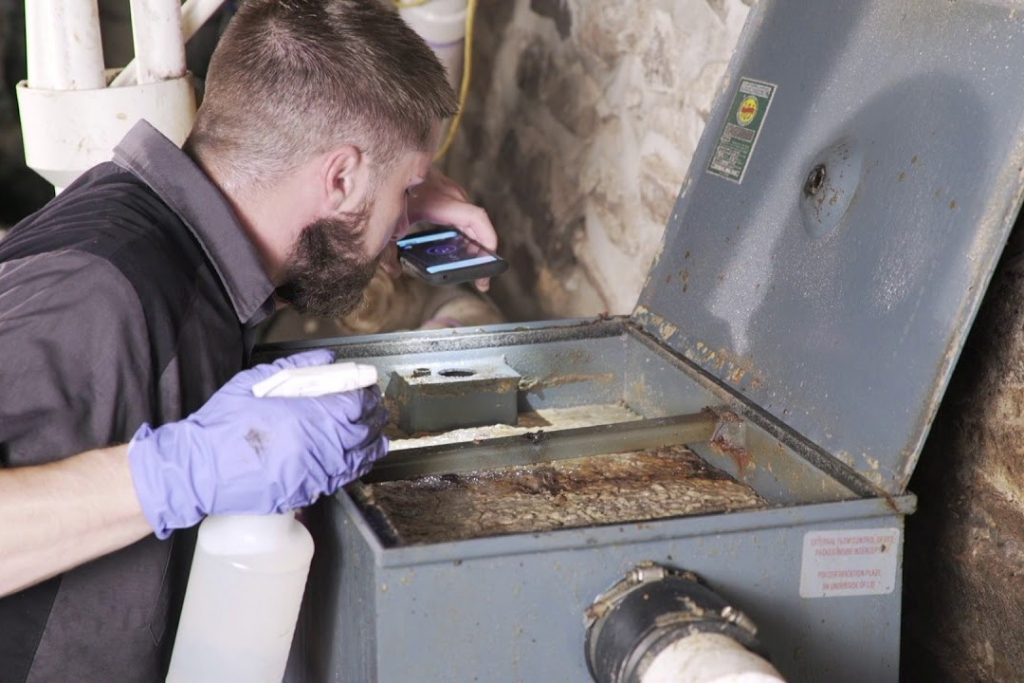 One of the common misunderstandings we often hear is that grease traps and interceptors are the same. Although this has some truth in the sense that both work to accomplish the same task, the two systems vary in several ways. Here are a few:
Grease traps are installed under your kitchen sink while grease interceptors are located underground outside your kitchen.
Grease traps only have a capacity of 200 gallons while interceptors can hold 750 to 4000 gallons of grease.
Grease trap installation is cheaper than interceptor installation.
The type of grease trap you install in your commercial kitchen depends on the factors outlined by the local City code, so it is not a matter of personal choice.
A significant factor that determines the quality of performance of either a grease trap or an interceptor is the way it is installed. If you hire a cheap company that does a lousy installation job, the performance of your grease trap will suffer and could be as low as 30%. That would be quite a headache to deal with in the long run! On the other hand, if you find a reputable company to install your trap, it will perform much more effectively and efficiently for years to come. However, no matter how professional your installation company is, if you fail to do your part in following a strict maintenance schedule, your trap will eventually fail. Proper cleaning and regular pumping are two of the most important jobs that our company is certified to perform.
Aside from regular pumping and cleaning, it is also essential that you get the chambers of your interceptor thoroughly cleaned annually. Hydro-jet technology makes this possible by using high-pressure water to blast away the sludge stuck to the edges, sides, and bottom of your trap. Once you get rid of this sludge, your interceptor will continue to function at its optimum capacity, and you can be assured that grease will never overflow into the sewer system.
The process of grease trap pumping and cleaning
Grease Interceptor Cleaning Jacksonville – Grease traps are straightforward and often simply require the pumping out of the grease. Interceptors, on the other hand, have a more sophisticated design and require extra stages of cleaning. These interceptors have interconnected compartments located underground and each one has a maintenance hole for access. This allows our team to reach all the chambers and do a thorough cleaning job. Still, no matter how much or how regular you pump out grease, the sludge located on the edges can quickly accumulate. For example, chambers often have cracks and crevices that are ideal locations for sludge build-up. When this happens, the performance of your grease interceptor can be compromised, and you may be at risk of clogging or overflow. It takes an experienced company like ours to handle this issue. Here is what to expect:
We remove grease from the interceptor chambers. This step requires the use of our state-of-the-art pump trucks that extract vast amounts of FOG (fats, oils & grease) in a few hours. No matter the size of your interceptor or the volume of your grease, we have the right equipment for the job. Before any work begins, we first conduct an initial inspection to determine the specific needs of your business.
We blast away sludge from the hard-to-reach areas. Once the main FOG (fat, oil, grease) is pumped out of your chambers, we can start working on that stubborn sludge. We are proud to be among a handful of companies who have access to hydro-jet technology that blasts away sludge at high pressure, leaving your chambers clean.
Most grease trap pumping companies have the skills and equipment to complete the first step but often leave out the second step. By doing this, they put you and your business in jeopardy, and although they may be cheaper, the long-term consequences are not worth it. Our team has the motto to "never leave any grease behind," and we can guarantee a job completed 100%.
The capacity of your grease interceptor
In the past, the maximum capacity of a grease interceptor was only 750 gallons, but in today's modern age, we see interceptors that can hold up to 5,000 gallons of grease! Since we have witnessed the advancement in the grease interceptor technology, our team is well equipped to handle any size that comes our way.
Grease interceptors can separate FOG from wastewater using a simple principle of weight and viscosity. Each contaminant has a specific weight and viscosity, which means it will settle down at different levels. Since water has its weight and thickness, it is easily separated from the FOG and can continue its way to the sewer system. Once you have a grease interceptor installed, you must regularly monitor the levels of grease and call a professional when it reaches the maximum allowable limit. It may take a few months for you to figure out the rate your grease trap fills up, but once you have an idea, you can schedule regular cleaning with us. See what our happy customers have to say about us here on Google.
We here at Jacksonville Grease Trap Service will be glad to walk you through the best maintenance schedule, so you don't have to worry about fines from the authorities. When we set you up with the right program, you won't have to call us because we will be there at the exact time you need us. Remember that the allowable limit for grease in your interceptor is 30%, so give us a call before it reaches this limit.
GET A GUARANTEED CALL BACK
FROM THE OWNER
Affordable & Reputable Grease Trap Services